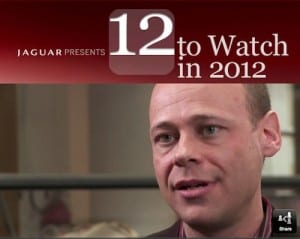 The New York Observer is doing a video series about local people with interesting ideas. 12 to Watch in 2012, profiles some New Yorkers doing innovative things with technology and design. I got to be in Episode 7, which came out today. In it, I talk about designing, artists, science, the Internet of Things, Digi International, data, and how the intersection of all these elements can enhance the human experience. Thanks to Brian Spinks, who organized it and Megan McCarthy the Observer's News Editor for being so kind as to include me.
Good company in this series includes Jeff Glasse from Kogeto, Kristen Wentrcek of Wintercheck Factory, my friend Bre Pettis, a founder of Makerbot, my SVA IXD colleague Khoi Vinh, creator of Mixel, Graham Hill, who founded Treehugger, and James Ramsey the progenitor of Mahattan's Low Line. Plus five more to come!
You can watch the Episode 7 video here.