Fjord Panel: Internet of Things meets Service Design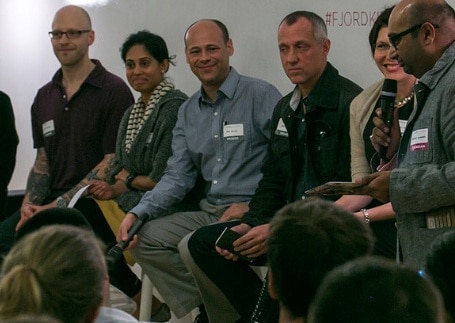 I spoke this week at the New York headquarters of Fjord design for their Fjord Kitchen event, "Where Will the Internet of Things Take Service Design?"
Moderated by Fast Company's Cliff Kuang, the two groups of panelists included:
Steven Dean, Partner, Prehype. Adjunct Faculty, ITP.
Scher Foord, Executive Director, Design, Condé Nast Technology.
Tim Queenan, Director of Strategy, Google Creative Lab.
Rachel Ramoni, Executive Director, SMART, Harvard Medical School.
Jacob Styburski, VP Customer Experience, Enterprise Growth, American Express.
…and me: Rob Faludi, Collaborative Strategy Leader, R&D, Digi International!
Some of the key themes that overlapped in both groups:
The Internet of Things is here, and will become more ubiquitous and invisible.
Good service design will continue to humanize the technology and the data around us, making its complexity disappear into the background.
Given that, our panelists agreed that it's high time to kill the term "Internet of Things." What's important is to create an "Internet of Things People Want," that should eventually evolve into the "Internet of Things People Expect."
To make this a reality, designers must create a shared language that allows for collaboration across the companies, industries, and individuals creating the services of tomorrow.
We had fun and great food. Here's some more pictures and more about the event.