XBees + Arduinos at Radio Shack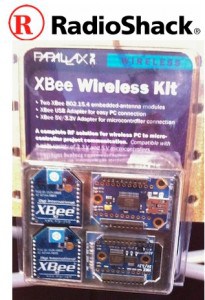 This month Radio Shack is testing the waters for a return to its roots and the DIY revolution. Parallax is supplying 500 stores across the country with XBees and other maker-oriented components. Arduinos are being supplied directly by the manufacturer*. If sales take off, the distribution will extend to Radio Shack's 5,700 company locations and potentially to 4,500 other independent dealers.
This is an amazing opportunity to bring the innovative power of rapid prototyping directly to a broad audience of students, inventors, educators, weekend tinkerers and professional engineers. Here's a complete listing of the Radio Shacks with XBees, Arduinos, etc. If you're near one, then a visit along with a purchase could help put the wheels in motion for countless creative components to be available nationwide. Check the list and go!
*post updated to correctly identify supplier