Sensitive Buildings: Final Projects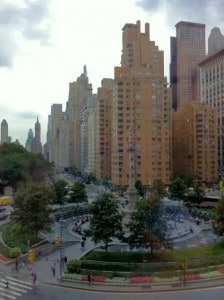 The students in our NYU ITP Sensitive Buildings class presented terrific final projects last Tuesday. They spent their Fall making the most of a unique opportunity to invent prototypes for large-scale sensor/device networks, then tested out their creations in a landmark 28-story apartment building on New York's Columbus Circle. The property owners had invited ITP to develop a variety of prototypes to enhance the livability, ecology and community of their building. Here's what the students delivered in their first round:
The class was supported by New York University's ITP program, the generosity of 240 Central Park South who provided the venue along with copious amounts of their time, and sponsorship from Digi International who supplied XBee, ConnectPort and iDigi networking solutions along with invaluable system architecture and support services.
Here's a video from the elevator group, who has been asked to make their installation permanent: