Talks at WaveForum in Nice, France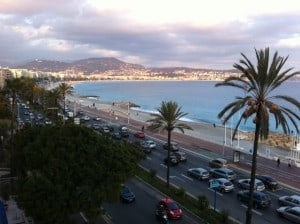 A new A380 carried me to the WaveForum conference in balmy Nice, on the French Rivera. There, somewhat bleary-eyed, I delivered a talk on the XBee Internet Gateway to customers and partners that explained the functions of the gateway, the value of open-source and the projects the XIG enables for Make: Live, ICTP and my Sensitive Buildings students. Quite the coup for something that was born in a few lines of code late at night in my home lab in late 2008! The next day I delivered my soon-to-be-classic Fun with XBees talk. That presentation shows off all the creative innovations enabled by XBee radios in the artist, scientist, maker, designer and inventor communities. It makes people smile.
I got to connect with a lot of Digi's customers from European telecom industrialists to Croatian electrical engineering graduate students. And after a delicious lunch of mussels and fries, it is off to Italy for five days of teaching science sensor networking through UNESCO at ICTP.