Transpiration Opening: Sensitive Buildings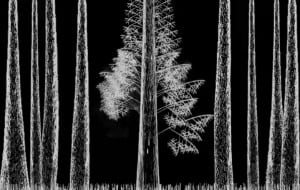 The Transpiration project that started in my Sensitive Buildings class at NYU's ITP was commissioned by 240 Central Park South to be a permanent installation in the courtyard of the building. It opened last night to a crowded gala reception. Transpiration is a data-driven, reactive projection of a forest that is influenced by the motion of the building's elevators and the flux of people in and out of the building. The data is collected using security cameras deployed in the four elevators and projected as an outdoor display approximately two stories tall and 70 feet wide. The work gives residents who do not have a park view an alternative organic vista that changes dynamically throughout the evening.
Jim Korein, one of the building's owners, commissioned the work and sponsored the opening party. Residents in attendance gushed about the work, and Jim reported that the class and artworks had actually created a cooperative culture that distinctly transformed the tenant-management relationship for the best.
Transpiration is a work by Gabrielle Levine, Jack Kalish, Toby Schachman and Emily Webster. Sensitive Buildings was supported by NYU, Digi International and historic 240 Central Park South's Omnispective Corp.