LCD Text Display for XBee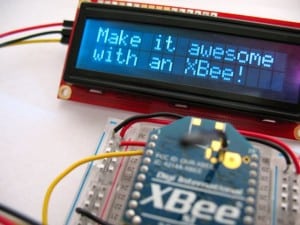 Words are how humans communicate. An inexpensive LCD text display can be the most economical way to make your project talk to people, and it's easy to make a wireless one with an XBee radio.
Build this example using an LCD with a serial backpack, like this one  from Adafruit, or this one from Sparkfun for inexpensive wireless text output. It's the fastest way for your project to gain human communications!
Now you can create a Twitter display for your office door, prototype a quiz game toy that teaches math, or add interactive instructions to your automated greenhouse watering system. This LCD-enabled XBee is a great way to make the things you make talk to people!