XBee Direct I/O with ADC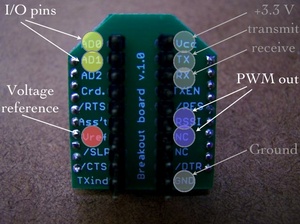 XBee radios can now record and output multiple channels of digital and analog data without using microcontrollers. The latest firmware (version 10A1) supports up to seven channels of analog input, nine channels of digital I/O and two channels of analog (pulse-width modulation) output. These will be great for creating small sensor modules or miniature output modules with low power and very low complexity.
Andrew Schneider and I cobbled a couple experimental modules together last weekend, and I recreated them for a demonstration to my Project Development Studio class. Here's the presentation on XBee Direct that I gave to the class. Firmware updates can be performed with MaxStream's X-CTU software, and you'll certainly need to do this if your XBee's were purchased before 2007.
Direct I/O should be considered for wearables, remote controls, toys, covert sensors, computational jewelry or anything airborne. Photos of the input and output circuits are below, along with the AT commands for this setup, with one analog (potentiometer) and one digital (switch) input, and the corresponding outputs (motor & LED):
INPUT MODULE:
ATID3456 –> PAN ID
ATMY1 –> my address 1
ATDL2 –> destination address 2
ATD02 –> input 0 in analog mode
ATD13 –> input 1 in digital in mode
ATIR14 –> sample rate 20 milliseconds (hex 14)
ATIT5 –> samples before transmit 5
ATWR –> write settings to firmware
OUTPUT MODULE:
ATID3456 –> PAN ID
ATMY2 –> my address 2
ATDL1 –> destination address 1
ATP02 –> PWM 0 in PWM mode
ATD15 –> output 1 in digital out high mode
ATIU1 –> I/O output enabled
ATIA1 –> I/O input from address 1
ATWR –> write settings to firmware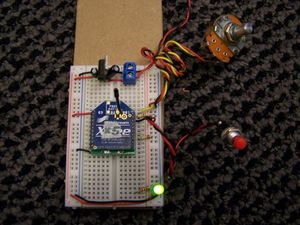 Input Module with Potentiometer and Switch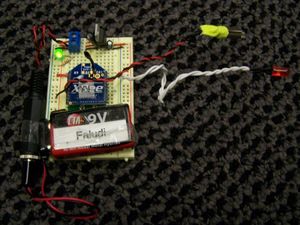 Output Module with Vibrator Motor and LED